I've seen several of Roxie Munro's other maze books, all of which Cedar liked very much. But for science-types EcoMazes takes the cake. It has the same two page spread of maze fun, but each of these is drawn amongst a different habitat on Earth. And with the wildlife that would actually live there. The maze instructions are to help various animals- including humans- get from one spot to another, stopping at dens or campfires or ponds along the way.
How did Munro know how to draw all these ecosystems? Well, she's got

a great explanation

on her website. But in short, she's traveled a lot! She used current and previous experiences around the world to base her work on.
In the brief time I spent looking through this book with Cedar, we were able to discuss predator- prey relationships, camping ethics, canoeing, and desert life. He then went on to spend quite a bit more time doing every single page of mazes, again. For a parent who does not use iPads, ebooks, or all the apps of technologically modern life, this old school interactive book is a perfect choice. My kid used his finger to trace along the pathways that the penguin needed to travel to get to the baby penguin, put a beaver to work, and help a polar bear find its way. Nothing jumped out at him, no sounds played. He simply used his vivid and bright imagination to enjoy the colorful pages at his own pace. He liked it. I liked it. A simple science time was had by all. What could be better?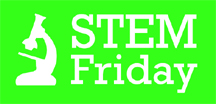 It's

STEM Friday!

(STEM is Science, Technology, Engineering, and Mathematics)