Last fall
our local SCBWI had upstate New Yorker Peggy Thomas come for a talk. She was an inspiration to me to refocus on writing non-fiction. I was delighted to discover the connection between Highlights and the Roger Tory Peterson Institute when, last week we workshop atendees were lucky enough to be given one of Peggy's books. For the Birds. Illustrated by Laura Jacques.
If you like picture books, if you like great art, if you like birds or nature in any way, then this book is for you. It is the story of Roger Tory Peterson, the man who developed the first bird identification books for the regular nature loving citizen. Surely you know of the Peterson guides?
Ol' Roger found his love for birds at an early age. And proceeded to spend his life in a dedicated obsession with creating complete guidebooks. He started with birds of the East, publishing his first Field Guide to the Birds, and causing people all over 1930's America to suddenly feel interested and excited about seeing birds in the wild. His first guide was wildly popular, as people began to think of birds as more than just feathered caps or hunting targets.
For the Birds covers most of Roger's life, and shines a light on one of America's early passionate advocates for nature. It also inspires us to share a the fun of birding with our kids. I love this picture book. And not just because it was given to me for free. But because it is beautiful to look at, fun to read, and reminds me that powerful and meaningful picture books do exist. Finally, I love this book because it taps right into the heart of what matters so much to me, loving nature and treating all of Earth's creatures with respect. Every day.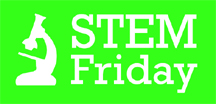 Check out the

STEM Friday

blog for more book reviews.(
STEM is Science, Technology, Engineering, and Mathematics)